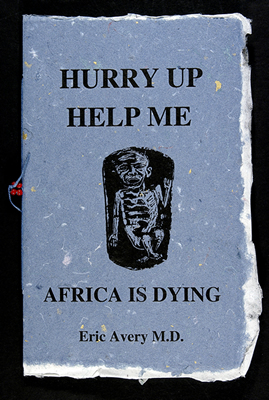 Hurry Up Help Me Africa is Dying
2003

Digital letterpress single section book with two reduced relief engravings of a woodcut on artist handmade paper.
Letterpress printing by Mark Attwood, The Artists' Press, White River, South Africa
Folding by Knowledge Lebyane and the artist
Pamphlet stitching with beading by Zoswa, Nomewetu, Corolelie, Nomonde, four women from a craft collective outside Cape Town, South Africa Book: 8 ½" x 5 ½".
Edition: 100

These books were made as part of the Art As Medicine action by the artist at the 3rd IMPACT Print Conference held August 27-30th, 2003 at the Michaelis School of Art in Cape Town, South Africa. The artist in his studio in Galveston, Texas made the paper for these books from cotton clothes collected by Tamar Mason from orphans at the Amazing Grace Children's Home, Malelane, South Africa. The books were printed and assembled at The Artists' Press during the week before the conference. They were sewn, beaded and sold during the Conference.
The booklet describes aspects of the current HIV/AIDS epidemic in South Africa, including the orphan crisis and reasons for the limited HIV treatment access by people living with HIV/AIDS. Sales of this booklet raise money for the Amazing Grace Children's Home. I visited the Children's Home August 20 and met with the Director, Grace Mashaba. There are 75 children in the Home, 25 were HIV +. At the time of my visit, the children needed new underwear and socks.